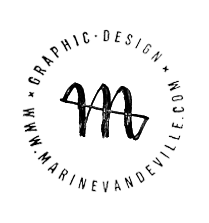 Bonjour,
je suis Marine, graphiste freelance à Paris.
Diplômée de l'ESAG Penninghen en 2008, j'ai travaillé pour de nombreux clients comme Louis Vuitton, Corsair, le musée du Quai Branly, l'Institut Français, la Fédération Bancaire Française, Lacoste… 
Je travaille sur tous supports print en tant que graphiste / directrice artistique, avec l'illustration comme valeur ajoutée à mon travail. Particulièrement méticuleuse, j'attache autant d'importance à l'efficacité globale des projets qu'à la finesse des détails, pour un résultat cohérent et complet.
N'hésitez pas à me contacter pour toute collaboration !
Hi ! I'm Marine,
a french Graphic designer based in Paris.
Graduated from the Esag Penninghen in 2008, I've been working for many clients as Louis Vuitton, Corsair, the Quai Branly museum, Institut Français, the Fédération Bancaire Française, Lacoste…
I work on all print medias as a graphic designer and artistic director, with illustration as an added value to my work.
Very meticulous, I take care of global impact of my work, but also focus on the fine details for a coherent and comprehensive result.
Feel free to contact me for any collaboration !